Best-Practice Knowledge Sets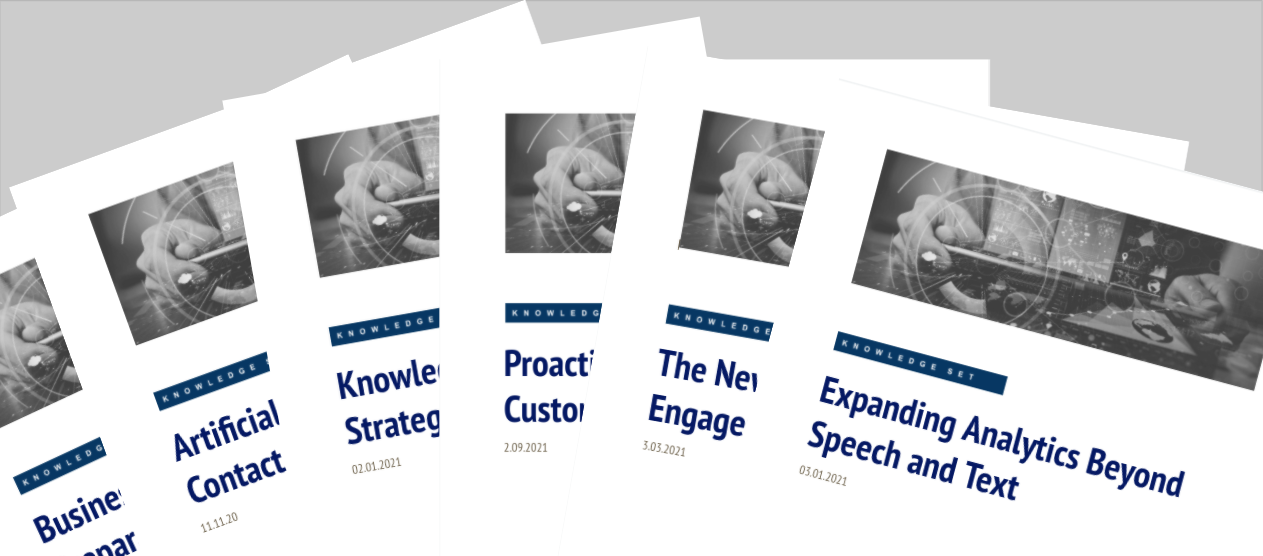 Each month we produce a Knowledge Set for members of the Magnet Program. These exclusive resources deliver research summaries, benchmark reports, white papers, articles, webcasts/podcasts, colleagues, consultants, and subject matter experts on a specific topic. Knowledge Sets are developed and updated based on the priorities and special interests of our members. Knowledge Sets support better decisions, shorter implementations, and stronger programs. More than 30 Knowledge Sets are currently available to all Magnet Program members. 
Magnet Program members can download Knowledge Sets. 
Knowledge Sets:
Real-Time Guidance for Agents

Customer Sentiment Analytics

Conversational AI: Definitions, Strategies and Trends

Conversational AI: Solution Options and Implementation Insight

Sustaining Company Culture In A Hybrid Environment

Non-Traditional Staffing: GigCX

Developing Customer Empathy As A Core Competency

Business Continuity Preparation and Response

Re-Engage the Work-From-Home Workforce

Messaging Channels and Strategies

Digital Transformation: Opportunities and Best Practices

The Super Agent Strategy

FCR and NIA (Next Issue Avoidance)

Personalizing the Customer Experience

Proactive Customer Service

Chatbots and IVAs: Strategy and Impact

Chatbots and IVAs: Implementation Best Practices

AI in the Contact Center: Getting Started

Knowledge Management

Customer Journey Mapping and Analytics

Live Chat Strategies and Best Practices

Training Strategies and Best Practices

Combating Agent Attrition

Hiring Challenges and Strategies

Employee Engagement Strategies and Best Practices

Understanding CX Measurements

Work From Home Best Practices and Strategies

Self-Service Strategy and Options

Quality Programs: Evolving Strategies and Systems

Implementing Speech Analytics – Best Practices and Strategies

Onboarding Strategies and Programs

Expanding Analytics Beyond Speech and Text

Virtual Queueing / Call-Back Strategies & Practices

Strategies to Handle Spikes and Surges

Reducing Customer Effort

Common and Critical KPIs

VoC Programs: Insight, Strategies and Best Practices 

IVR: Evolving Strategy and Best Practices